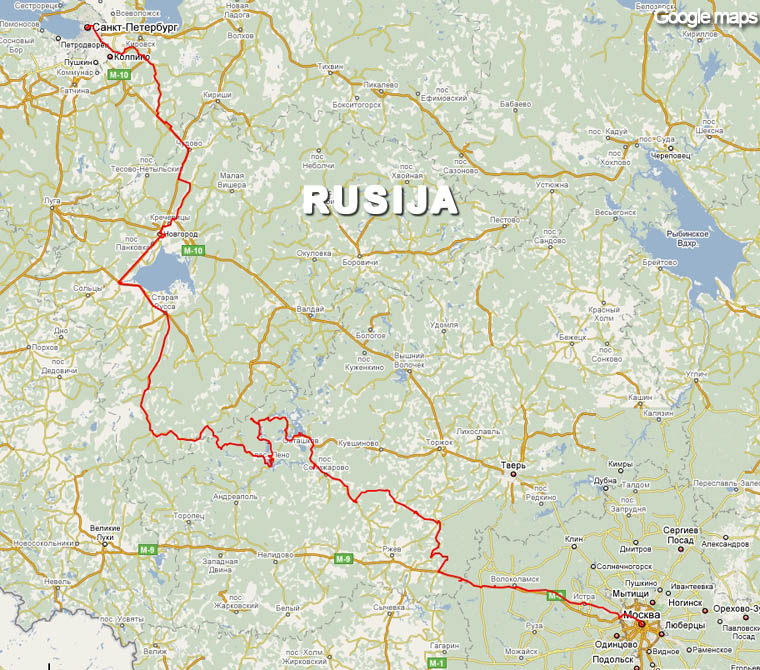 Moscow - Starica - Ostashkov - Peno - Kholm - Staraya Russa - Novgorod - Sankt Peterburg
Day:
Date:
Daily::
Time:
Total:
1.
13.July
Arriving to Moscow. Visiting the city, preparing for tour.
2.
14.July
Moscow, Krasnogorsk, Dedovsk, Snegiri, Istra
69
km
4:30h
69
km
3.
15.July
Istra, Rumjancevo, Novopetrovskoe, Cismena, Volokolamsk, Nazarevjo
84
km
5:25h
153
km
4.
16.July
Nazarevjo, Sahovskaja, Knjaži Gori, Pogoreloe Gorodišće, Sinicino, Stolipino
94
km
6:20h
247
km
5.
17.July
Stolipino, Rodnaja, Jaicovo, Starica, Bratkovo, Botnevo
68
km
5:06h
315
km
6.
18.July
Botnevo, Kuznecovaka, Lukovnikovo, Babino, Oreški, Korobovo, Eljci
76
km
6:00h
391
km
7.
19.July
Eljci, Taljci, Seližarevo, Selišće, lake Selger
78
km
4:35h
469
km
8.
20.July
lake Selger, Ostaškov, Ljubimka, Volgoverhovje
97
km
6:28h
566
km
9.
21.July
Volgoverhovje, Aleksevskoe, Ivanovskoe, Visokoe, Runo, lake Vselig
30
km
4:30h
596
km
10.
22.July
lake Vselig, Širkovo, Kosickoe, Orlinka, lake Peno
49
km
3:54h
645
km
11.
23.July
Free day
12.
24.July
lake Peno, Peno, Kobenevo, Bervenec, Mosti, Koreno, Trostijanka, Astratovo
84
km
6:28h
729
km
13.
25.July
Astratovo, Dobroe, Fedorovšcina, Pogoreluša, Apolec, lake Togod
37
km
5:13h
766
km
14.
26.July
Free day (rain)
15.
27.July
lake Togod, Zui, Mamonovo, Nahod, Sepki, Holm, Čekunovo, Poddorje, Medvedoe, Sanakovščina
125
km
7:04h
891
km
16.
28.July
Sanakovščina, Sokolovo, Staraja Rusa, Buregi, lake Iljmen
62
km
3:16h
953
km
17.
29.July
lake Iljmen, Šimsk, (1000km), Novgorod
67
km
3:25h
1020
km
18.
30.July
Free day
19.
31.July
Novgorod, Krečevici, Rusa, Selišci, Čudovo, Babino, Pomeranje
130
km
6:31h
1150
km
20.
1.Aug
Pomeranje, Ljubanj, Borodulino, Šapki, Pukholovo
62
km
3:28h
1212
km
21.
2.Aug
Pukholovo, MGA, Sankt-Peterburg
74
km
3:43h
1286
km
22.
3.Aug
Return to Moscow
23.
4.Aug
Return to Belgrade
total:
1286
km
Dedovsk
Dedovsk was first mentioned in 1573 as a village of Dedovo (Де́дово), which would turn into a bigger settlement in the 18th century. In 1913, a textile factory was built in the area, which would give birth to a settlement of Dedovsky (Де́довский) and absorb the Dedovo village. In 1940, the settlement was turned into the town of Dedovsk. Now it's population is around 28000.
Istra
Istra (Russian: И́стра) is a town in Moscow Oblast, Russia founded in 1781 (former name - Voskresensk (Воскресе́нск), until 1930). It stands on the Istra River, 56 km east of Moscow, on the Moscow – Riga railway. Population: 33,652 (2002 Census). Known since XVI century as Voskresenskoe village, it was later renamed to Voskresensk, which was a chief town of district. In 1930 the town was renamed to Istra, by the name of the river which flows through it. As a result of short-term occupation during Great Patriotic War the town was severely damaged. Anton Chekhov used to live and work here.
Volokolansk
U letopisu iz 1135 g. Pominje se kao Volok na Lami, posle 1178 kao Lamski Volok, a kasnije se primenjuje oblik Volok Lamsikj. Ima 24000 stanovnika. Ima nekoliko interesantnih crkava: Vaskresenski Sabor iz 1462 g. Pokrovsku crkvu iz 1695 i druge. Dvadeset pet kilometara severoistočno od mestoa, u selu Terjajevo, postoji Josifovolokolanski manastir iz 1479 g. Jedan od velikih političkih i duhovnih centara Rusije od 15 – 17 veka.
Ostaskov
is a town from 14th century in Tver Oblast, Russia, 199 km west of Tver. It sits on a peninsula at the southern shore of Lake Seliger, one of the purest lakes of Europe. There is a museum in the city which was established in 1889. Ten kilometers from town in village Rogoža, there is a nature museum of the Seliger county.
Volgoverhovje – source of the river Volga
Lake Seliger
Arround 110 rivers are flowing into this lake but only one outflows - – Seližarovka. Its absolute height is 205m. From the north to south it is long arround 100km. It is a very popular tourist destination.
Toropec
It is situated on the west of the Valdai plateau, on the place where the river Torpa outflows from the lake Solomeno. The city is first mentioned at 1074. It was one of the important trading centers on the west border of Russia during 16th and 17th century. There are resident buildings from the middle of 18th century and begining of the 19th. There are several churches and museum.
--
Still waiting to translate...
--
Novgorod
Jedan od najstarijih ruskih gradova U ruskim letopisima se spominje 859. godine a u inistranim izvorima o njemu se piše još ranije – u 6. veku. U 10. veku postaje drugi po zanačaju centqa Kijevske rusije. Od 12 do 15 veka bio je centar Novgorodske republike. U letopisima posle 1169 god. grad se pominje kao Veliki Novgorod. Od 16 – 18 veka postaje jedan od krupnih trgovačkih centara Rusije. Od 1546 godine po broju raskošnih i manje raskošnih građevina, zauzimao je treće mesto, odmah posle Moskve i Pskova. Mnogo je nastradao u švedskoj okupaciji 1611-1617 godine. Sa razvitkom Sankt Peterburga u 18. veku postepeno gubi svoje trgovačko-ekonomsko značenje. Za vreme velikog otadžbinskog rata bio je skoro potpuno porušen. Od 1950 – 1960 bio je ponovo izgrađen. Na levoj obali reke Volhov, nalazi se novgorodska tvđava – Detinc osnovana u 10. veku. Tu se nalazi više crkava izgrađenih od 11. do 17 veka, zatim zdanje vladičanskog dvora iz 1433 g. Kao i mnoga druga zdanja. U severnom delu grada nalazi se Antonijev manastir sa Saborom Rođenja Bogorodice iz 12. veka. Od novijih znamenitosti ističe se spomenik hiljadugodišnjice Rusije sagrađen 1862. godine po projektu skulptora M. O. Mikešina.
Sankt Peterburg
Grad je osnovan 16-og (27 Maja) 1703 godine od strane Petra Velikog. Od 1924 do 1991 je nosio ime Lenjingrad. Posle toga mu je ponovo vrećeno ime Sankt Peterburg. Važi za jedan od najlepših gradova u svetu. On je najseverniji milionski grad na svetu. U Sankt Petersburgu je počela revolucija 1905 – 1907 godine, Februarska revolucija 1917, Oktobarska revolucija 1917. Za vreme Drugog svetskog rata grad je izdržao 29. mesečnu opsadu. U njemu postoji 120 muzeja od kojih su najpoznatiji: Ermitaž, Ruski muzej, muzej istorije Sankt Peterburga itd... U gradu radi i više od 70 pozorišta. Najpoznatije građevine u gradu iz 18. i 19. veka su: Petropavlovskaja tvrđava, dvorski trg sa Zimskim dvorcem, Nevski prospekt, trg Ostrovskog, trg Dekabrista sa spomenikom Petru Prvom.
U predelu Sankt Peterburg ima više od sto reka, rečica, rukavaca i kanala. Ukupna dužina reka i kanala je preko 300 km. Zovu ga i Venecijom severa. U reonu grada se nalazni preko sto vodenih površina, koje su premošćena sa oko 800 mostova, od kojih je 218 pešačkih. Isključivo gradskih mostova je 342 a ostali su u prigradskim mestima (Kronštat 5, Puškin (Carsko Selo) 54, Petrodvorec 51, Pavlovsk 16).